Our Parish life functions in collaboration with our staff and parishioners working together in order to bring organization and spirit to St. John the Baptist Parish. Our committees include the following options: Pastoral Council, Faith Formation, Liturgy, Parish Life, Social Justice & Ministry and Finance. For meeting dates, please view Our Parish Life Calendar. 
Our Council is responsible for the pastoral ministering to the life of our parish through continual discussion of our mission, vision and ways to foster our community as missionary disciples in Christ. We typically meet the third Thursday of the month at 7:00pm.
Next Meeting: August 15, 2019: 7:00pm
The purpose of the Faith Formation Committee is to work with the Faith Formation Coordinator and with the total St. John the Baptist Parish community to nurture and facilitate an openness to lifelong faith formation and to work towards developing structures to support his, incorporating catechumenal principles. We typically meet once a month. Our meeting weekdays vary.
2019-20 Faith Formation Schedule: FF Schedule 2019-20
Our committee helps foster meaningful and life-giving worship for our parish through seasonal liturgy planning and environmental decorating.
Next Meeting: August 8, 2019 7:oo pm
Recent  Committee Minutes: 05-02-2019 Minutes Liturgy
The purpose of the Parish Life committee is to establish and promote a sense of belonging among parishioners and the provide opportunities for living out the communal dimensions of the gospel in our parish community. Activities include social, recreational events, and programs which assist in extending and enhancing Christian living and communal growth within our parish.
If you would like to assist our committee with providing hospitality as needed, please contact Heidi Peternell at 320.761.9469 or heidi.peternell@gmail.com
Upcoming hospitality events: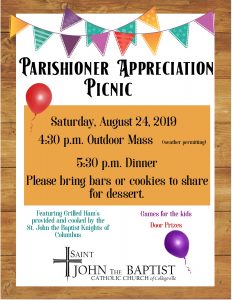 The Social Justice and Ministry Committee keeps the parish aware of concerns for peace and social justice within and beyond the parish boundaries by providing information and promoting programs and projects which help parishioners think globally and act locally in matters which concern all Christians today.
The Social Justice and Ministry Committee of Saint John the Baptist Parish is a catalyst for parish involvement in social justice and ministry issues.
We typically meet every second Monday of the month from 7 - 8 PM.
Recent Committee Minutes: 2018-19 SJM Report
For more on our on-going programs, please click here For More Information
Vote Your Values 8.5x11 pages FINAL
Vote Your Values authors: Angeline Dufner and Carol Jansky, Peggy Roske editor.
Click here to view a 2017 presentation on refugee resettlement:
The Finance Council is mandated by Canon Law and reports directly to the pastor, who appoints members to the Commission.
The purpose of the Finance Council is the assist with the coordination of all financial aspects of parish life including finances, fundraising, and maintenance of the buildings and grounds.
 We meet the third Thursday of the month from 6 - 7 PM.
Next Meeting: August 15, 2019 at 6:00p.m.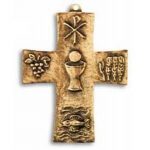 Copy of our Website Policy: Website guidelines