Our 8:30am Sunday Mass in Collegeville is live streamed on our Facebook page or on our YouTube channel:
YouTube: https://www.youtube.com/channel/UCsju4zjLk4INbfUlANNhtwA
Facebook: https://www.facebook.com/sjtbparish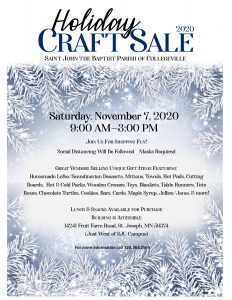 Holiday Craft Sale: Saturday, Nov. 7th 9:00am-3:00pm in the Parish Center!
Fall Oct 2020 Wreath Order Form
November 1: Food Drive at 8:30AM Mass
Planning our summer flower gardens: Diggin Dirt Vol 3   Diggin Dirt Vol 1   
We are a vibrant parish seeking to grow our community.
Our Current Mass Schedule: Sundays at 8:30am (outdoors)
Who We Are
We are a progressive Catholic Benedictine Community encountering Christ through Word, Sacrament, one another, nature and our thirst for a just world.
Our Mass Times
Come worship with us at 9 am on Wednesdays and Thursdays. Visit us also at 8:30 AM on Sundays (outdoors). The sacrament of Reconciliation is available by appointment.
COVID-19 Re-Opening Updates
Let us know how we can pray for you by sending us a prayer request.
For more information call us at 320-363-2569
We extend our deepest sympathies to the Pfannenstein family: Obituary-Pfannenstein, Virginia
May the souls of the faithfully departed, through the mercy of God, rest in peace.