Return to Masses OUTDOORS:  Beginning Sunday, May 2nd we will move our Sunday Masses outdoors (Weather Permitting*) for the summer season. Gathering outdoors for mass helps to reinforce our theology by reminding us we're not a place, we're a people. So grab your sunscreen or your blanket. Bring your lawn chairs. Let's cherish this time and enjoy the benefits of gathering outside to worship the risen Christ.  (*In case of rain, we would simply move Sunday Mass INSIDE the Parish Center.) We will continue to livestream our masses on YouTube, audio radio broadcast to vehicle radios in the parking lot, as well as over-flow seating with video in Mary Chapel."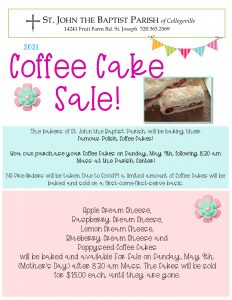 3 Mass Options: 1)Sunday Mass is available inside the Parish Center: Masks required and chairs are socially distanced.
2) Video recordings on our YouTube channel at: St. John the Baptist Collegeville (subscribe for notifications) **Beginning 1-10-2021 please subscribe to the YouTube channel for our Area Catholic Community: https://www.youtube.com/channel/UC2Sw98uxz5BJ7_Ders65WJw .
3) Listen to the LIVE radio transmission of Mass from your car in the Parish Center parking lot at 8:30am on Sundays, communion will be distributed to cars during Mass.
We are a vibrant parish seeking to grow our community.
Our Current Mass Schedule: Sundays at 8:30 am in the Parish Center.
Who We Are
We are a progressive Catholic Benedictine Community encountering Christ through Word, Sacrament, one another, nature and our thirst for a just world.
Our Mass Times
Come worship with us at 8:30 AM on Sundays. The sacrament of Reconciliation is available by appointment.
COVID-19 Re-Opening Updates