Holy Week & Easter Schedule:
Holy Thursday, April 18  7:00pm
Good Friday, April 19  7:00pm
Easter Vigil, April 20  8:00pm
Easter Sunday Mass, April 21  8:30am
Please click either of the dates below for our weekly bulletin: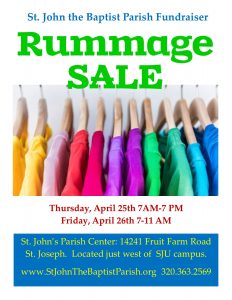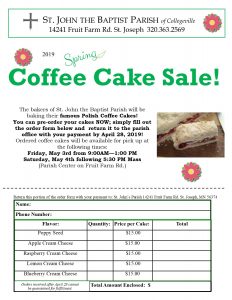 We are a vibrant parish seeking to grow our community.
To view our upcoming events please click here: Our Parish Life Calendar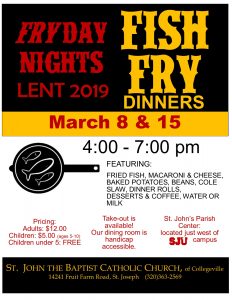 Diocesan Lenten Opportunities: Lent Opportunties in the area
Who We Are
We are a progressive Catholic Benedictine Community encountering Christ through Word, Sacrament, one another, nature and our thirst for a just world.
Our Mass Times
Come worship with us at 8 AM on Wednesdays and Fridays. Visit us also at 5:30 PM on Saturdays. The sacrament of Reconciliation is available before our Saturday masses and by appointment. Our Sunday Masses will take place at 8:30 a.m. on Jan. 13, Feb. 10, Mar. 10 and Apr. 7th.
Faith Formation Updates
Faith Formation Registration Forms and the 2018-19 Calendar is available on our committee page!
Let us know how we can pray for you by sending us a prayer request.
For more information call us at 320-363-2569
We extend sympathies to the family of Angeline Dufner: Funeral-Dufner, Angeline Obituary