Who We Are
We are a progressive Catholic Benedictine Community encountering Christ through Word, Sacrament, one another, nature and our thirst for a just world.
Our Mass Times
Come worship with us at 8 AM on Wednesdays and Fridays. Visit us also at 5:30 PM on Saturdays and the second Sunday of every month at 8:30 AM. The sacrament of Reconciliation is available before our Saturday masses and by appointment.
Join Us
As we continue to grow our community, we are seeking new members to volunteer and serve. Please prayerfully consider filling out the form below.
We are a vibrant parish seeking to grow our community.
To view our upcoming events please click here: Our Parish Life Calendar
- Highlights -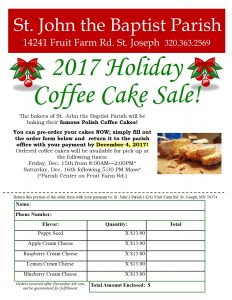 Extra Details for 2017 Pageant Involvement:
Children (ages 4 and up) are encouraged to sign-up for our annual Christmas Pageant which will take place on Christmas Eve at 5 PM in the Abbey Church. The sign-up sheet is on the bulletin or you can email our Faith Formation Coordinator Alyssa at Alyssa.Maty@gmail.com Rehearsal is at 10AM on Saturday December 23rd & 4 PM on December 24th in the Abbey Church.